Manufacturing Capabilities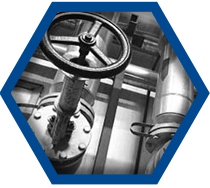 Our manufacturing facility has the capability to produce over 60,000 gallons of product daily. Raw materials are always on hand with minimum safety levels to ensure there are no disruptions in our manufacturing process and to ensure finished products are always available. Once a product is manufactured and has been approved by our quality assurance department, it is then transferred to our storage area.
Our bulk storage area for finished products has the capacity to store over 70,000 gallons. This vast amount allows us to maintain surplus inventory on all of our products, guaranteeing prompt delivery. Under normal conditions, it takes no longer than just a few hours of receiving an order to have it ready for delivery. We also offer expedited shipping with same day delivery.
Quality Control - ISO 9000:2008 Registered
All products manufactured are required to go through strict testing procedures to ensure our products exceed industry standards and customers expectations. As an ISO 9000:2008 registered company, it is our duty to follow procedures that ensure our products are manufactured to the highest quality. We will not ship any product that does not meet our own quality control standards.
Once finished products leave our facility, our job is not done. Brighton Laboratories feels it is important that all customer accounts be serviced regularly to ensure that our products are working efficiently. Our great technical service team is readily available to help with any problems or questions our customers may have at any time.